ACCA F5 Study Text eBook ACCA F5 Exam Tips ACCA Notes Lectures
ACCA F5 Study Text eBooks for Exam Focused Distance Learning & Revision
ACCA Distance Learning Packages Benefits & How Does It Works
 ACCA F5 Table of Contents
Activity Based Costing
Life Cycle Costing
Target Costing
Throughput Accounting
Environmental Accounting
Relevant Costing
Short Term Decision Making
Cost Volume Profit Analysis
Pricing Decisions
Linear Programming
Risk & Uncertainty In Decision Making
Learning Curve Theory
Forecasting
Budgeting Systems
Types Of Budgeting
Basic Variance Analysis
Mix & Yield Variances
Planning & Operational Variance
Financial Performance Measurement
Non Financial Performance Measurement
Transfer Pricing
Behavioural Aspects Of Performance Measurement
Benefits of Exam Focused ACCA F5 Study Text eBook
At Glance:
Exam Focused, Examiner's Guidance, Author's Guidance, Exam Awareness, Exam Support (More Than 50 ACCA F5 Exam Tips), Detailed Past Paper Analysis, Illustrations, Explanations, Examples, Diagrams, Practice Questions, Annotations, Readout Loud, Accessibility, Study Planner, Printer Friendly, PDF File Format, Environment Friendly, Instant Downloads (No License Registration), 100% Pass Guarantee, Use on Multiple Devices (Mobile, Laptop, PC), Harmony, Core Activity, Direct Access, No Hidden Policies.
Exam Focused ACCA F5 Study Text eBook
ACCA F5 Study Text eBook (Pages: 374)
50+ ACCA F5 Exam Tips, Mobile Friendly PDF
Buy Now for (£29.99) only £9.99
60 Days ClickBank Unconditional Money Back Guarantee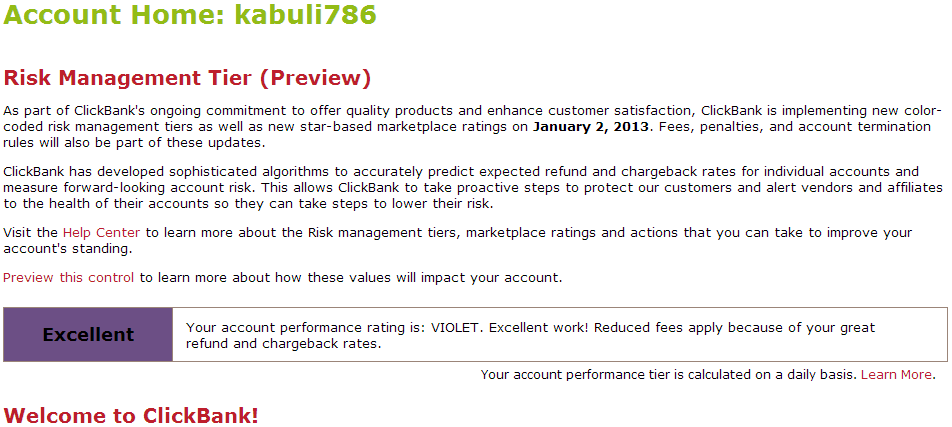 Above ClickBank® Account Status shows the quality of services; both before and after sales services provided by ACCASUPPORT.COM to its members.
Details:
Exam Focused:
Exam focused ACCA F5 study text ebook is aimed to help you passing exams by allowing you spend efforts and time smartly.
ACCA F5 study text book aim to educate you in the way you are expected to apply your knowledge in the exam.
ACCA F5 study text book is updated prior to each exam session and during the exam session in the light of recent information available such as examiner published an article in student accountant. In that case, you will receive updated version of relevant ACCA study text book via e-mail.
accasupport.com
Usually ACCA students look for ACCA exam tips at the end of exam session to learn important syllabus areas much better. Therefore, those ACCA students usually do exam focused study only 2 weeks or 1 month before. ACCA students can greatly improve the probability of passing exams if they do exam focused study from the beginning.
Exam Focused ACCA F5 Study Text Book brings all relevant information under one roof through systematic procedure to eliminate information gathering on ACCA F5 exam paper and prevents the chances of omission of important information about the ACCA F5 exam paper.
ACCA F5 study material takes account of examiners comments and reports, past exam papers, student accountant articles, tips from other tutors, syllabus areas examined by other professional accountancy bodies, publications in business magazines etc. It also serves as standard or benchmark to review the study material for quality (reliability, accuracy, understandability, timeliness,completeness).
Examiner's Guidance:
Examiner's Guidance are exam preparation tips given by the examiner in student accountant, examiner's interview and other documents.
Author's Guidance:
Author's guidance are applicable to all syllabus areas.
It also includes tips to enable you to prepare for exams and perform during exams effectively.
Exam Awareness:
Exam Awareness shows the frequency and magnitude (marks) of each syllabus area.
It also shows the relationship between various syllabus areas and how each syllabus area contributes toward passing exams.
Exam Support (More than 50 ACCA F5 Exam Tips):
Exam Support provides guidance on application of knowledge in exam context.
Just knowledge is not enough for passing exams rather you have to use it wisely in limited time available in the exams.
Past Paper Analysis:
Past paper analysis at the beginning of the study text enables you to practice past exam questions relevant to each syllabus area on ACCA global website. Therefore, you do not need to buy expensive practice kit or search for relevant questions to practice a particular syllabus area.
Past paper analysis directly below each relevant heading gives an idea about the length, complexity of requirements and VERBS (Explain, Evaluate, Report etc) in which each syllabus area can be examined.
Illustrations:
Illustrations are simple numerical examples given to prepare students for more challenging exam standard questions.
Explanations:
Explanations are given to explain the rationale (why & how) behind steps involved in calculations.
Examples:
Examples are given to explain technical theoretical knowledge in simple and understandable way.
Technical jargons are used to prepare you for different technical terms used by the examiner to dodge you to ensure that you understood the text rather than rote learn the text.
These technical jargons are explained in parenthesis or as separate example to make you understand the technical term and syllabus area as whole.
It also shows the application of knowledge into practice.
It is especially useful when you are expected to apply your knowledge to answer scenario based questions.
Processing information meaningfully and logically leads to better retention of information. Linking new information to information already committed to your memory, such as every day experiences, is proven technique for learning new knowledge.
It will also motivate you to learn harder, as you will understand the benefits of technical knowledge in your career as chartered accountant.
Diagrams:
Diagrams are given to explain complex concepts and procedures, which are difficult to understand in words.
Diagrams also lead to better memorization of knowledge.
Diagrams lead to the use of right brain while text lead to the use of left brain. Combination of text and diagrams enables you to learn ACCA papers using both brains to avoid getting overstressed left part of the brain due to excessive reading.
Left brain is responsible for reading, calculation, analysis. Right brain is responsible for establishing relationships, reading graphs & charts and dealing with non-financial aspects, such as motivation of managers and employees.
Practice Questions:
Practice questions are exam standard questions to provide a clue about length complexity and format of questions likely to be asked in the exams.
Solutions are given in a format that will save time, while solving questions during the exams.
Time management is important during exam, ability to solve question but taking more than time available is of no use. You must be able to solve question within given time.
Therefore, you must identify, which steps will be rewarded and which steps can be omitted without losing marks.
In addition, you solution should be properly cross-referenced such as working 1, 2, 3 etc and labeled using descriptive text rather than abbreviations.
Solution is supported with explanations to tell you why and how that particular step is performed.
No need to buy eReader device such as Kindle, Noox, Nexus etc, such as Kindle costs from $69 to $139 in order to read kindle eBooks from Amazon.
Exam Focused ACCA F5 Study Text eBook
ACCA F5 Study Text eBook (Pages: 374)

50+ ACCA F5 Exam Tips, Mobile Friendly PDF
Buy Now for (£29.99) only £9.99

60 Days ClickBank Unconditional Money Back Guarantee
Instant Download (No License Registration):
You can benefit from studying immediately after download. Step-by-step guidance is given for downloading ebook for first time buyers.
One step secured order form without any registration. All major credit cards & paypal accepted.
No installation required of custom software design to enforce copyrights. Custom software may not work well with different PCs, laptops, mobile devices etc, as it is virtually impossible to test custom software against different hardware and software specifications.
Some anti-virus softwares prevent unpopular softwares from running on the system. Therefore, you may need to disable anti-virus prior to executing the application.
PDF file format is widely used file format for sharing documents online and offline. Therefore, it is very unlike to have issues with PDF file. There are numerous free PDF readers available to suit your needs.
Guaranteed Pass (nothing to lose):
You will be granted 100% free study text ebook for subsequent exam session until you pass your exams.
Unfortunately, if an ACCA F5 student does not make a pass, then he/she has to send an e-mail along with ACCA F5 result screen shot/PDF file and customer order number or transaction identification number.
Hyperlinks:
Hyperlinks are links to other areas of study text book. In addition, table of exam topics are linked to exam topics and table of sub exam topics are linked to sub exam topics given at the beginning of each exam topic.
Hyperlinks will save several minutes per day, which you may spend navigating through ordinary printed and ebooks. Hyperlinks will save large amount of time during the whole exam session.
Bookmarks:
Bookmarks are given for reaching quickly to relevant syllabus area. It is an alternative to hyperlinks.
Key Terms:
Table of key terms shows important terms across the study text book that you must understand in order to learn relevant topic and pass the exams.
It allows you to reach to the place inside study text book, where you can develop basic understanding about particular term.
Colours:
Colours are used for demarcation between essential text, supporting examples, exam support etc.
It will enable you to find required ebook feature such as example, exam support, diagram etc easily.
It also make learning interesting. Writing golden words without motivating reader to read it is of little use.
Annotations:
You can highlight text and add comment anywhere in the study text book.
Highlighting will enable you to highlight phrases and sentences you want to read again.
Commenting will allow you to make a brief note in the study text book. You can use commenting to:
Save mnemonics.
Mark as read important, unread, read, Revised etc.
However, most publishers do not allow these features to enforce their copyrights.
Readout Loud:
Readout load enables students to listen written text. You can use any screen reader of your choice to convert text to speech.
Those who have problem reading text can particularly benefit from this feature.
Others can have a break from reading text. Listening involves the use of Right brain opposed reading, which involves the use of Left brain. Listening allows your Left brain to revitalize for future reading.
It will also help revision of your syllabus before exams much faster. It is usually believed that listening is many times faster process than reading. You can adjust the speed according to your preference.
Each point of theory is started from separate line to enable you to listen only the text of your interest.
Accessibility:
ACCA F5 study text book has legible fonts type & size and high contrast colours to enable you read easily without producing strain on your eyes.
You do not need to zoom and then scroll horizontally to read study text.
You can switch to two pages per screen layout to avoid frequent vertical scrolling, without compromising readability to significant extent.
Study Planner:
Study planner is a method allows you to plan for study within limited time available.
It also allows you to track your progress against plan; therefore, you can adjust your speed of study and study hours accordingly.
Time management is specially important for professional students that you have to meet other commitment such as job, friends and family.
Printer Friendly:
ACCA F5 study text book is economical to print.
Diagrams, tables and other formatting are made to keep the cost of printing to minimum.
You may consider printing two pages side by side to save papers and cost, without compromising readability to significant extent.
Most other publishers do not allow printing an ebook at all or just allow to printed 25% – 60% of the ebook pages.
ACCASUPPORT.COM allows 100% printing of the ebook pages.
It will also provide portability as you can easily carry it in our bags.
PDF File Format:
PDF (Portable document format) files can be viewed using free adobe reader.
Adobe reader is compatible with most operating systems such as windows, Mac, Android etc.
You can also read ACCA F5 study text ebook on tablets and cell phones supporting PDF format to take the ebook on the way or at workplace in your pocket.
Therefore, you also do not need to buy pocket notes too.
It can be used on multiple computers and mobile device without any limitation imposed on the number of devices.
PDF file format is widely used file format used to compress file size of electronic documents such as ebooks and takes very little time to load as compare to ebooks having EXE file format.
ACCA F5 study text ebook is searchable through any software having find and replace function.
However, conversion of PDF into DOC, TXT etc format may distort structure of an ebook or make it unreadable at all.
Environment Friendly:
Reading eBooks on digital media such as PC, laptop, tablets, cell phones are among the best ways to save papers and therefore, environment from greenhouse effect.
Millions of papers can save thousands of trees each day.
It also prevents CO2 emission in traveling or delivery of printed books in addition to traveling or delivery cost and time.
In addition, it is our moral duty to care for environment and society who lives in that environment.
Harmony:
Most publishers do not involved writing and editing their books. They hire writers having expert knowledge on particular topic. However, they are not connected with ACCA training provision and therefore, not aware of practical challenges, jargons etc faced by students during the exams and areas of weakness on the part of students.
It creates lack of harmony between different syllabus areas. Each syllabus area seems to be unrelated to each other while studying. However, most examiners require students to demonstrate the understanding of overlapping nature of the syllabus. This would not be a case, if entire syllabus of ACCA F5 ebook was written by one mentor.
Core Activity:
ACCASUPPORT.COM is devoted full time to ebook publishing and continuously acquire new skills (memory techniques, for example) and resources (word processing software, for example) to compile an ebook to support students in much better way.
Direct Access:
You will have direct access to author & administrator, without having to wait for information to be transfer to and from more than one desk to reach the person responsible for making decision. It will result in quicker response to inquiries. In addition, you need to send only single email to resolve your all issues rather than dealing with different personnel for each issue, regarding purchasing and usage of ebooks.
No Hidden Policies:
Many publishers provide money back guarantees and gifts etc. However, it is subject to hidden charges and conditions, which are not communicated on sales page and ebook description page. Instead, such policies are communicated on FAQs, Terms of Service, Delivery etc pages.
ACCASUPPORT.COM has no such hidden charges at all.
Exam Focused ACCA F5 Study Text eBook
ACCA F5 Study Text eBook (Pages: 374)

50+ ACCA F5 Exam Tips, Mobile Friendly PDF
Buy Now for (£29.99) only £9.99

60 Days ClickBank Unconditional Money Back Guarantee
You can download free eBook to make yourself satisfy that the investment in ACCA F5 eBook exceeds benefits. It is among one of the advantage you have by purchasing from accasupport.com that you are certain about the quality and quality of benefits from an eBook and start receiving benefits before purchasing ebook.