What eCommerce/eBusiness means?
Why to do eCommerce/eBusiness?
Table of contents for eCommerce/eBusiness eBook?
I have No Prior Knowledge of eCommerce/eBusiness
How it will Enable me to do eCommerce/eBusiness effectively?
Is it worth buying eCommerce/eBusiness eBook?
What is eCommerce/eBusiness?
In economics, commerce means managing relationships to promote financial growth.
eCommerce means managing relationship through the use of electronic media such as email, website, instant massaging etc.
When eCommerce activities are extended to perform revenue generating activities i.e. buying and selling through the use of electronic media to make money online, it is known as eBusiness.
eBusiness = eCommerce + Transactions
Difference between eCommerce and eBusiness is of scope. In other words, eCommerce is sub-set of eBusiness.
In practice, both terms are often used interchangeably. eCommerce is more popular term despite of the fact that eBusiness is more relevant term.
Why Should I Perform eCommerce/eBusiness?
Increase ROI, increase PRP and increase Wealth with low risk and low investment eCommmerce / eBusiness project.
eCommerce helps increasing coordination among supplier and processes, departments inside the business.
eCommerce enhance customer satisfaction by providing before and after sales support.
eCommerce increases the brand visibility and provides appearance of large business. Business may be able to charge premium for enhanced esteem value perceived by customers.
Better inventory control, wide choice of suppliers, wide spread reach to customers. diversification of political, local economical risk, low startup cost, access to information (such customer behaviour, product demand, customer feedback etc) for performance management, strategic and operational planning purpose are some of the benefits of eCommerce.
Following are the table of contents for step-by-step eCommerce/eBusiness Implementation eBook that you can use to implement and maintain your own eCommerce/eBusiness effectively.
Table of Contents for eCommerce/eBusiness Implementation eBook
PART A: BEGINNERS
Chapter 1: ECOMMERCE VS TRADITIONAL BUSINESS
Chapter 2: WAYS TO ECOMMERCE
Chapter 3: CHOOSING MARKET NICHE & PRODUCT
Chapter 4: CHOOSING ONLINE BUSINESS STRATEGIES
Chapter 5: WEB PRESENCE
Chapter 6: LEARN WEB DESIGNING FOR SEARCH ENGINE OPTIMIZATION (SEO)
PART B: INTERMEDIATE
Chapter 7: PRODUCT DESIGN & MARKETING MIX
Chapter 8: INTERNET MARKETING STRATEGIES
Chapter 9: PAYMENT PROCESSING
Chapter 10: PERSUADING CUSTOMER
Chapter 11: RISKS OF CONTENT PIRACY & SECURITY
Chapter 12: MANAGING WEBSITE RISKS
Chapter 13: MANAGING CREDIT CARD RISKS
Chapter 14: IDENTIFY, ASSESS, RESPOND TO RISKS
PART C: ADVANCED WEBMASTERS
Chapter 15: MANAGING GROWING EBUSINESS
Chapter 16: MANAGING PERFORMANCE
Chapter 17: NON-FINANCIAL PERFORMANCE MANAGEMENT
Chapter 18: COST REDUCTIONS & VALUE ENHANCEMENT
Chapter 19: RECRUITING & REWARDING
I have no prior experience of eCommerce/eBusiness; can I still benefit from eCommerce/eBusiness Implementation eBook?
eCommerce/eBusiness implementation ebook is originally written into three parts (Beginners, Intermediate, Advanced Levels). It will provide you step by step guidance from getting started to expanding your eCommerce activities during your entrepreneurial career. Step by step guidance will prevent you from getting overwhelmed by information overload, while at the same time it will provide you complete knowledge of various aspects of eCommerce. You do not required to have any prior knowledge. eCommerce/eBusiness implementation ebook assumes no prior knowledge on the part of webmaster.
In addition, free forums support is also available to readers of free or paid eCommerce/eBusiness implementation ebook to ask for any clarifications needed regarding contents inside eCommerce/eBusiness implementation ebook. It is to ensure readers get 100% maximum possible benefit from reading the book.
eCommerce/eBusiness Implementation eBook provides step by step guidance by first explaining technical eCommerce jargons through glossary of eCommerce and gradually provides guidance at each stage of eCommerce/eBusiness implementation in the logical order. eCommerce/eBusiness implementation eBook is designed to equip you with necessary knowledge to enable you take more considered decisions. It is applicable to every market niche, it does not dictates to act in a certain way rather it provides counselling to take your decisions more wisely according to the challenges involved in your market niche. You can use eCommerce/eBusiness Implementation eBook as a full time consultant for your eCommerce/eBusiness venture.
How eCommerce/eBusiness Implementation eBook Will Enable Me To Perform eCommerce/eBusiness Effectively?
eCommerce/eBusiness Implementation eBook provides you value for money. It is written to ensure productive use of your money, time & efforts spent on eCommerce/eBusiness activities. eCommerce/eBusiness Implementation eBook clarifies concepts and confusions that prevent a newbie from entering and becoming a successful eCommerce/eBusiness website owner.
Searching information on internet only provides information on issues about which you have already some awareness. Therefore, those important aspects of eCommerce/eBusiness may not come to your attention, which are necessary for successful eCommerce/eBusiness implementation and operation.
Example:
The tragedy associate with the term eBusiness with is more relevant instead used less frequently, as it is not as much popular as the term eCommerce. You have possible listen about eCommerce Solutions & eCommerce Training but you may not have listen about, eBusiness Solutions & eBusiness Training on the internet.
To account for this limitation, publishers having websites or blogs only publish information, which have existing demand regardless of the importance of published information for eCommerce/eBusiness. Unfortunately, information having high importance but low in demand remain unpublished, as in the case of eCommerce & eBusiness terms. Therefore, it motivated me to write an eCommerce/eBusiness Implementation eBook, which provides both fair and all necessary information through step by step guidance without overwhelming you.
Many publishers address merely technical aspects of eCommerce/eBusiness and fail to relate those technical aspects to financial profitability both absolutely ($) & relatively(%). Most of the people want to setup eCommerce website to earn profit while few people want to earn experience and fame. Therefore, performing eCommerce/eBusiness activities, such as social media marketing, search engine optimization (SEO) without knowing the impact of your efforts on profitability is of little use.
Step by Step eCommerce/eBusiness Implementation eBook, which provides practical guidance to eCommerce/eBusiness website owners/managers taking account of their primary objective i.e. maximizing profitability, long term growth and PRP (Performance Related Pay).
Example:
Some internet marketing strategies are useful for getting customers instantly such as SMO. However, other internet marketing strategies such as SEO are useful for continued traffic in the long term but it requires significant time to start getting customers to your website/blog.
ACCASUPPORT.COM provides information in structured and organized manner. To enable reader how and when to perform each tasks. Knowledge without structure and organization is like a bits of jigsaw puzzle, which have no use individually until it is organized in certain order to contain some meaningful information.
Examples are given in support of technical aspects of eCommerce/eBusiness processes to enable readers to understand and apply that information in implementing eCommerce/eBusiness.
eCommerce/eBusiness Implementation eBook contains diagrams. Diagrams  provide visual clue about the implementation of each step or process.
Is It Worth Buying eCommerce/eBusiness Implementation eBook?
You have an opportunity to look inside an eCommerce/eBusiness Implementation eBook before buying to ensure that eCommerce/eBusiness Implementation eBook is relevant to your needs. You can download free ebook to make yourself satisfy that the benefits of eCommerce/eBusiness Implementation eBook exceeds cost. It is among one of the advantage you have by purchasing from ACCASUPPORT.COM that you are certain about the quantity and quality of benefits from an eBook and start receiving benefits before purchasing eBook.
ACCASUPPORT.COM provides reliable and relevant knowledge and only knowledge. We do not tell stories of past and autobiography to increase the number of pages or make you read lengthy article, such as long keyword rich introductory paragraph, for knowledge that can be provided into sentence or two, just because to rank well in search engines or trying to refer to some website or software to earn commission per customer referred. It consumes your time but does not provide the fair knowledge to improve earnings in future.We recognize the fact a major investment a reader makes in research & learning is time. We aim to provide as much information as possible in limited time available to entrepreneurs while maintaining the completeness and clarity intact.
The cost of purchasing the eCommerce/eBusiness Implementation eBook is just one off. However, it will make you increase your earnings many fold till perpetuity due to more considered eCommerce/eBusiness strategies from both financial and non-financial perspectives and time & cost reduction achieved by eliminating non-value added activities.
No need to buy eReader device such as Kindle, Noox, Nexus etc, such as  Kindle costs from $69 to $139 in order to read kindle eBooks from Amazon.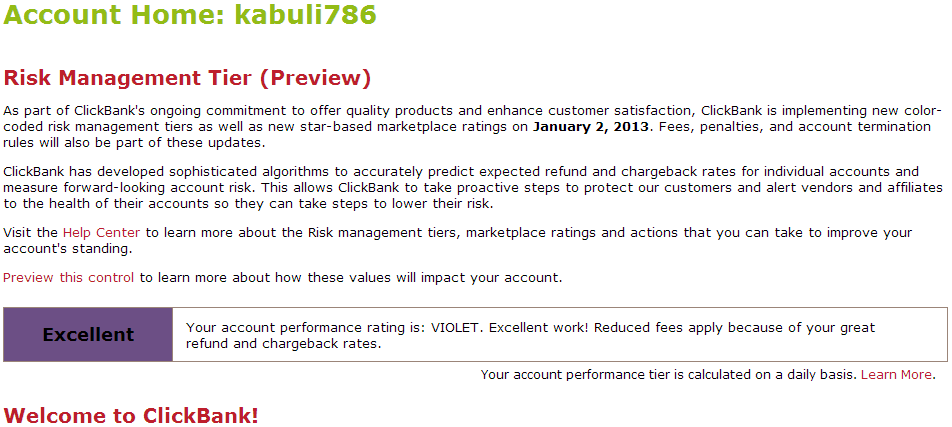 Above ClickBank® Account Status shows the quality of services; both before and after sales services provided by ACCASUPPORT.COM to its members. Earnings and Number of Visitors provided by one page website owners as proof of product quality only shows quantity of services rather than quality of services.
Many one page website owners with one product used to show Earnings and Number of Visitors snapshots. Do not be fooled by these guy. Technically, they are right, but effectively the snapshot they provide are rather misleading. Absolute figures do not tell the efficiently with which time and money was used to generate such amount of Visitors and Earnings. In other words, these website owners do not tell the time and money invested to get the result.
Example:
Business generating $200,000 per year by investing $100,000 do not mean healthy business. Instead, business generating $200,000 per year by investing $10,000 is a healthy business, as it is generating 20 times more earnings on money invested. In former case, business is only generating 2 times more earnings on money invested.
Rest of the $90,000 could be invested elsewhere to generate more earnings.
eCommerce/eBusiness Implementation Guide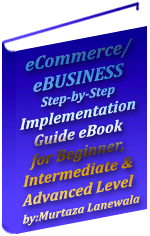 Author: Murtaza Lanewala
Full eCommerce/eBusiness Implementation (Pages: 350)
Buying Price ($52.99) only $9.99

60 Days 

ClickBank

 Unconditional Money Back Guarantee
Instant download– Start receiving the benefits immediately after payment.
Free Updates:
eCommerce is complex and dynamic in nature. New products and new ways of doing eCommerce/eBusiness are constantly emerging. Therefore, i update this ebook on continuous basis. As a part of good practice, ACCASUPPORT.COM provide new volume of eCommerce/eBusiness Implementation eBook free of any extra cost.
No DRM Protection:
eCommerce/eBusiness Implementation eBook PDF (Portable Document Format) can be viewed using free adobe reader. No DRM (Digital Rights Management) protection. Therefore, you can use this eBook on multiple computers at the same time and allow your employees to access this eCommerce/eBusiness Implementation eBook, which will enable you to spread knowledge of eCommerce/eBusiness across the whole organization. It will promote coordination and motivation, as all employees will know the impact of their task on other areas of eCommerce/eBusiness and overall performance.
Accessibility:
eCommerce/eBusiness Implementation eBook provides clickable cross-references to enable readers to quickly and easily reach to relevant place in an ebook.
Other features are Printer Friendliness, Mobile Friendliness, Annotation, Contrast Colors & Background, Read Out Loud, Eco Friendly etc.
eCommerce/eBusiness Implementation Guide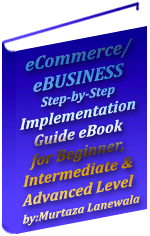 Author: Murtaza Lanewala
Full eCommerce/eBusiness Implementation (Pages: 350)
Buying Price ($52.99) only $9.99

60 Days

ClickBank

Unconditional Money Back Guarantee